SCREEN PRINTING & EMBROIDERY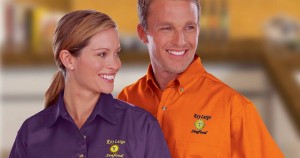 Screen Printing & Embroidery is an easy and affordable marketing tool to serve many purposes.
Event T-shirts
Employee uniforms
Client gifts
Clothing, table runners, blankets, bags, stadium seats, pillow cases, etc.

What is Screen Printing and what are the basic logo/art requirements?
Screen Printing is a printing technique whereby a mesh is used to transfer ink onto a substrate, except in areas made impermeable to the ink by a blocking stencil.
Art and logos used for screen printing generally need to be created with Spot Colors (specify color via PMS spot color designations).  There are exceptions for different printing methods, but it is usually required that screen printing artwork have spot color usage.  Files should be high resolution PDF's or .EPS format.
If you are not sure how to do this or don't want to mess with it, no worries.  We will take care of it for you (usually a nominal fee is charged for the conversion of artwork).

What is embroidery and what are the basic file requirements?
Embroidery is the process of decorating fabric or other materials with needle and thread or yarn.  You have the ability to select different thread colors to enhance the style of your items.  We have a set thread color selection that we can review with you.
Commercial embroidery utilizes a special file format that requires special software to create.  Our team will work with you to ensure the logo/artwork you want to use is the correct quality to be able to be converted for embroidery purpose.  There is necessarily an upfront, one-time fee involved with this process.  Once we have your logo converted for embroidery, you will not have this fee again unless you make changes to your logo.