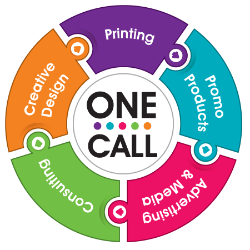 ONE+CALL is Regent Promotions' simple solution for all of your Marketing, Advertising & Consulting needs.
No longer do you have to waste time and resources chasing down multiple vendors. No longer do you have to worry about maintaining branding guidelines because you have one company printing your letterhead, another company handling your custom apparel and more companies handling your promotional items and advertising.
Regent Promotions' ONE+CALL solution saves you money, reduces stress, and lets you get back to doing what you need to do. With ONE+CALL, you have immediate access to our complete line of services and products.
Stop the madness. Make the call. Regent Promotions ONE+CALL.