PRINTING SERVICE SOLUTIONS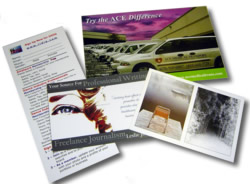 No matter the size of the project, our printing service is your solution!  
From the simple stuff you need everyday to that one piece that absolutely must catch eyes and create calls, our award winning team will make sure you get the quality you deserve.
Standard Office & Operating 
Brochures, envelopes, business forms, business cards, letterhead, and more.

Trade Show & Display
Retractable banners, X-banners, outdoor/indoor vinyl banners, table-top displays, stand-alone displays, and more.

Outdoor Advertising
Vehicle wraps, billboards, Signage, and more.
Let Regent Promotions take care of all your printing needs.
Give us a call to set an appointment to get your project started.
Let us further explain the printing world:
Offset Printing – Printing technique that transfers ink from a plate to a blanket to paper instead of directly from plate to paper.
Digital Printing – refers to methods of printing from a digital-based image directly to a variety of media. It usually refers to professional printing where small-run jobs from desktop publishing and other digital sources are printed using large-format and/or high-volume laser or inkjet printers.
Large Format Printing – generally accepted to be any computer-controlled printing machines (aka "printers") that support a maximum print roll width of between 18″ and 100″. Printers with capacities over 100″ wide are considered Super Wide or Grand format.

Direct Mail Fulfillment – This is a service that simplifies the mailing of your print item(s).  Our team will manage the entire process of preparing your mailing list for bulk mail purposes, labeling your envelopes/self-mailer, stuffing materials into your outgoing envelope, and delivering to the post office.