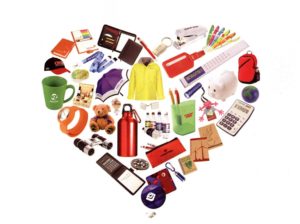 Promotional Products are easy & affordable opportunity to brand your business, offer gifts to your clients, and show appreciation to your employees.
We offer guidance on logo usage and branding.  Size.  Placement.  Color usage.  Having sold millions of items, we will use our experience to guide you in the right direction.
Please feel free to visit our Online Promo Product Database/Website by CLICKING HERE!
Here are just a few reasons you want to use Promotional Products as part of your marketing strategy:
Open New Accounts
Studies show that combining marketing literature with promotional products is one of the surest ways to make a good impression on prospective customers. Given how hard you work to get in front of someone for even a few minutes, shouldn't you leave a lasting impact?
Promotional products can pave the way for productive follow-up contact and a better sales conversion rate.
Establish Employee Incentive Programs
Salespeople like commissions, but thrive on recognition. Certificates and plaques are yesterday's news, though. Today you can affordably offer stand-out salespeople everything from customized display pieces to catalogs that allow them (and their families) to choose from a set of pre-determined merchandise. We can help you put together the corporate awards program best-suited to your employees and goals. And remember: these employee incentive programs often more than pay for themselves in increased sales and productivity.
Use Promotional Products to Launch New Products or Services
It's important to make the launch of any new product or service memorable, in addition to educating current and prospective customers about it. We can help you identify the right promotional marketing product mix to highlight its unique features or demonstrate its benefits. We can even reproduce the product in miniature and imbed it in Lucite — think about the "wow" factor that will have with your target market!