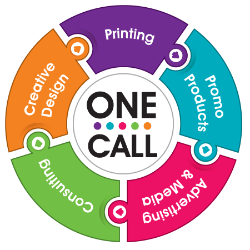 Brand management is a process of creating, maintaining, and managing the digital assets of a company. ONE·CALL is brand management taken to the next level. With ONE·CALL, we protect your assets AND we provide you a simple means to save money.
Here is a typical scenario:
Company X has a logo but no one is really sure who designed it. This company uses one vendor for their printing needs, a second vendor for their promotional item needs, a third vendor for their apparel (screen printing & embroidery) needs, and potentially more vendors for website maintenance/hosting, etc. There is no brand management strategy in place, so the logo that gets used by each vendor has slight variations – the colors aren't always the same; a slightly altered logo was created by someone for embroidery purposes; business cards are not standardized or at the very least, the quality of the print is not consistent.
Company X brings on a new employee. Time to order all the things you need for a new hire. You go through the process of contacting all the separate vendors to get pricing for each of the items. There is design work to be done but you just leave it up to each vendor to take care of. You spend hours trying to coordinate this process leaving you frustrated because all the while your ACTUAL WORK is being neglected.
ONE·CALL is THE brand management game changer!
Same scenario as above. You have a new hire. With ONE·CALL you literally make ONE CALL to get everything you need. Your account manager will take care of everything. It is that simple.
Here is what you get:
Save MONEY – you save money with your time (efficiency) AND we offer incredible discounts with ONE·CALL.
No more frustration of chasing multiple vendors – ONE·CALL lets you stay focused on your job!
Consistency in the appearance and use of your logo and branding.
A comprehensive marketing strategy – your message is consistent.  Period.
With our ONE·CALL service we take brand management to a new level. Yes – we create a brand management guide that spells out PRECISELY how your logo is to be used AND which logo to use for each specific purpose.  More importantly, we let you stay focused on growing your business.